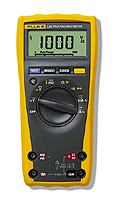 Conheça o nosso Fluke true-rms VX179, um multímetro poderoso com visor retroiluminado, precisão básica em Vdc de 0.09% e função de medição de temperatura. Este instrumento robusto, preciso, topo-de-linha, é projetado especificamente para técnicos industriais, eletrônicos e eletricos e também engenheiros. Ele foi desenvolvido para uso em ambientes que podem variar de uma bancada relativamente limpa até os piores ambientes de trabalho conhecidos pelo homem. Além de ser a primeira opção da maioria dos técnicos e engenheiros, o versátil VX179 esta na faixa de preços que usuários ocasionais e hobbistas desejam para uma ferramenta de qualidade completa. Com ele você tem a qualidade Fluke e novas funções fáceis de usar.
Fluke built the VX179 from the ground up, based on extensive research into what its broad range of users requires in a DMM. Research clearly shows that users want the impossible: an affordable, high-performance, feature-rich multimeter that is easy to use. And that's just what they get with the VX179. It was tested at beta sites to ensure it surpassed expectations under real-life work conditions. Equipment being tested is getting bigger and so are testing requirements. This rugged meter survives being on the floor, on the engine and on the bench. Just plug it in, slap it in place and walk away.
Backed with a lifetime, worldwide warranty, this meter features an exclusive Fluke-designed true-rms engine, 0.09% accuracy with 6000 counts of resolution on a bright, backlit digital display that updates four times a second. The backlit display automatically turns off after two minutes to save battery life. In addition, this meter offers a Min/Max/Avg mode for enhanced troubleshooting and impressive speed as the display powers up and presents measurement readings instantly.
Fluke engineers designed this DMM for the most demanding testing jobs. It provides V ac range from 0.1 mV to 1000 V as well as frequency range from 2 Hz to 100 kHz. Fluke also extends the capacitance ranges beyond that typically found in a meter at this price level. With a range from to 1 nF to 9999 µF, it provides a broad spectrum of measurement readings needed by technicians and engineers working on electric motors and other equipment. The VX179 model also measures temperature with sensor leads plugged into the conveniently located front panel sockets. While operating in the Min/Max/Avg mode, the meter emits an audible tone to signal that a new minimum or maximum reading has been sensed and stored. Users can select response time (the minimum time a signal must be present to be recorded) between 100 milliseconds and 1 second.
One of the key features of this DMM is its innovative, ergonomic tapered-case design. It incorporates an overmolded, soft polyurethane bonded to a hard polycarbonate alloy case structure. With this high-impact overmolding technology, a shock load is dispersed over a greater area of the case. In addition, the rigid structure minimizes case flex, which in turn reduces stress on the electronics inside the unit. Outside the case, the standard-issue probe holders are conveniently integrated into the overmolding. The end result is a DMM with superior durability, utility and product life. An innovative battery access door allows the user to change the batteries with a standard screwdriver without breaking the calibration seal. In addition, the closed-case calibration feature allows calibration adjustments to be made directly from the front panel.
Fluke has long focused on safety in all its products and has sought industry-wide protection measures to help ensure safe working conditions and product specifications for electrical technicians. This new meter complies with the EN61010 Second Edition standard which addresses CAT IV overvoltage requirements. All inputs are designed to withstand an impulse voltage in excess of 8 kV which complies with CAT IV 600-V requirements.
Includes built-in probe holders, TL75 test leads, 9-volt alkaline battery, holster and manual. This 1.5-pound unit is 6.25" x 3.25" x 9.2" Lifetime warranty.